There was a recent sale of a ".agency" domain name extension . The .agency extension might not be a popular one, but we can report that travel.agency was recently sold for $9,999. It was auctioned out on Flippa.com, which atracted a total of 91 bids before it reached its final price.
This particular name comes with a renewal fee of around $499 per year, which can be compared to around $10-$15 if you register a .com domain name.
So far it seems to be the highest reported sale for a .agency domain name ever.
We look forward to see if this name was purchased as an investment to hold on to, or if it will be turned into a developed website.
An observation we made on the DropCatch platform, which is an auction place for expiered domain names, was that the name Jinsha.com reached a bid over $423,000. There was a bidding war between two persons, but we are not sure it this name will actually be sold for such a large amount. Usually, auctions on DropCatch tend to be valid. In rare cases there have been fake bids were the winner have defaulted on payment. It will be interesting to see if this particular domain name will end up selling.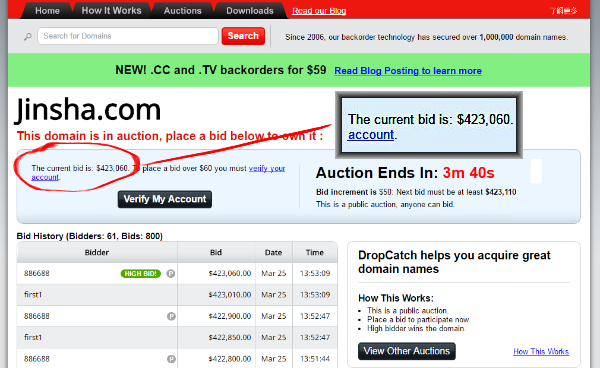 Jinsha is an archaeological site in China. While the word "jinsha" does not seem to have many searches on the search engines, Chinese domain names have really increased in popularity the last year. It will be interesting to see if this domain name will sell or not